Why Powell runs so hard ?




"I never stop. I thrive on hard work. My ideal year would be four months of movies, four months in the theatre and four doing what I want"

, says Robert Powell in this interview with Richard Green.

Robert Powell is certainly putting himself about these days. His preferred low profile private life is heavily countered by his work output.

With two films currently on release and another completed, he is setting up the shooting of a fourth for which he has written the screenplay.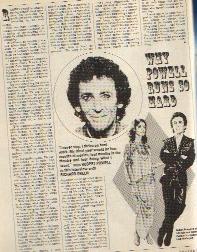 In addition, he narrates a new rock album titled "Exiled", and when we met for lunch in the cellars of London's opulent Café Royal he had come hotfoot from doing some voice-overs.

Flanked by such rock luminaries as Status Quo's Francis Rossi, singers Colin Bluntstone and Lesley Duncan, and disc jockey Anne Nightingale. – all of whom, with the exception of Annie, appear on the album – we discussed his non-stop work rate of late.

His two films doing the rounds are Jane Austen in Manhattan and Harlequin. The former was premiered here on TV and of that event, Robert says: "It would be wonderful if somebody had given us five million dollars to make the film but they didn't. You get money where you can these days and if that means premiering it on television, fine. England is only three to four-per-cent of the world market after all, so you're not losing a lot."

Quite a different movie is Harlequin which was made in Australia with Robert in the title role. Rather darkly he explained the role: "He is a magician rather than anything else. An illusionist, he's whatever you want him to be. It's based upon the Comedia del Arte. He can only be seen by the audience, not by the people on the stage."

As that thriller opens, The Survivor follows on its heels. This movie concerns odd goings-on as the result of a plane crash. While David Hemmings acted in Harlequin, he directed The Survivor.

"David, I think, has considerable talent as a director. We made a contract on a beer mat. He found The Survivor, we adapted it somewhat for the kind of film we wanted to make and it was finished within six months, which is quick in this business."

With two films on the trot made in Australia, what does the actor think of their film industry?

"Very energetic, lots of ideas," he mused, adding, "there is at the moment a split of opinion whether they should be making indigenous Australian products or going for international vehicles.

"The purists object to the latter using Australian money, but, let's face it, nobody's interested in English history, so why should they be interested in Australian history? The only history in which anyone is interested in is American history.

"They are making a little money, though getting a lot of critical acclaim. There certainly is a lot of talent there but the only thing I might say is we were all so enthusiastic about Australians coming into film making in such a strong way, they didn't hit quite as hard as they could have and I detected a hint of complacency."

One of Robert's more recent and controversial quotes was to the effect that acting had nothing to do with art. Given our location with its Oscar Wilde connections, I asked him to enlarge.

"I don't think it has," he asserted. "The actor is far too dependent on all the other things that go to present him to be called an artist in his own right. He does not exist per se as an artist on his own. There are the cameras, the lights, the costumes, the director and so forth. You're just at the end of the line. It's a polarised viewpoint. I do feel strongly if people suggest that actors are artistic."

Some of Robert's artistic leanings are to go on show in his next movie, The Punctual Rape.

"I set up a development company two years ago in association with two others," he revealed. "One of the things they came up with was 'The Punctual Rape' by Cambell Black. I'd run out of funds and nobody was jumping over themselves to give us a lot of money, so I said 'I'll do it'. I took it away for a couple of months and did the screenplay.

"It's very inexpensive. It's either the story of a man who is the victim of a monstrous bureaucratic system, or a normal society that's harbouring a lunatic. It's sub-Kafka, very black and very funny. I hope to persuade certain actors to do it for a piece of the action. David Warner read it and liked it. It's actors of those qualities that I want to go for."

So what makes Robert run? Why work quite so hard?

"I never stop," he admitted. "I thrive on hard work. I'm having the house rebuilt and that's debilitating because my mind has to go onto things that are not productive – like curtains and the tilers who haven't turned up for two days.

"I work less as an actor than I used to. My ideal year would be four months on movies, four months in the theatre and four doing what I want – and it's sort of working that way now.

"I wanted to come into production, but now I'm in… it's tough! I seem to be running everywhere three minutes late for everything."

Richard Green, Photoplay, November 1980 Vol 31 N°1